Top Fifteen Best Christmas Comic Covers #3-1
Here comes the FINAL three!!


First, as a special bonus, here's a Frank Cho cover NOT on the list, but I like to be nice to Christopher Burton, so I give you Liberty Meadows #29...




On to the final three, now!!!



#3



Teen Titans #13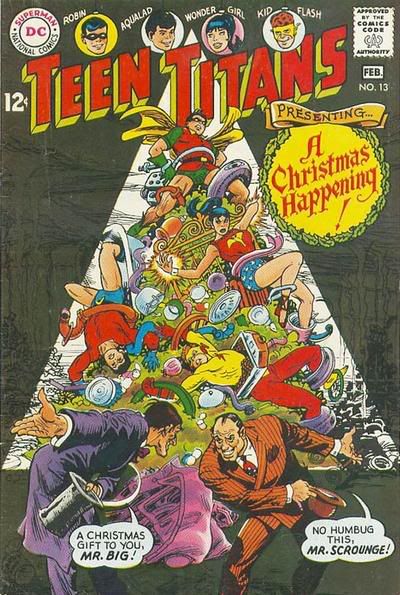 Anyone ever tell you that Nick Cardy was an artistic genius?

Well, if not, they SHOULD have!

What an awesome cover (from a 1968 issue) this is!

It maintains the Christmas spirit of the time, while still managing to depict a lot of dynamic action, all with an excellent style of Cardy's own. Seeing these characters, you instantly know that A. They look cool and B. They were drawn by Cardy.

That's an impressive achievement, I say.

Tremendous cover, with the only drawback (and what kept it from being #2) being that it could use a LITTLE more Christmas cheer to it...



#2



Christmas With the Super-Heroes #1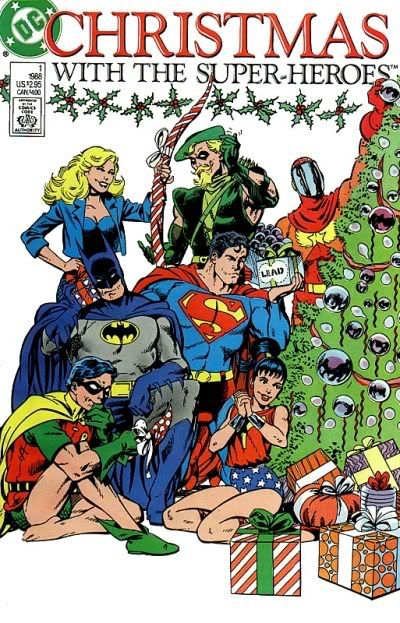 Luckily, John Byrne is up to the task! Perhaps upset over Terry Austin drawing the cover for the Uncanny X-Men issue, Byrne strikes back with this awesome gatefold cover, which I showed just the cover above, but here is the gatefold cover aspect of it...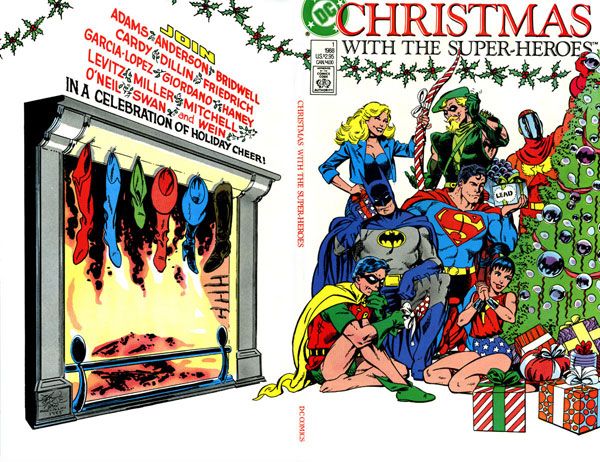 As you can see, Byrne smartly designed it so that it is a cool design in gatefold terms, but you do not lose a lot if you only look at the front cover. Very smart.

In any event, the art by Byrne is good, but the best part of it is the unpretentiousness of the piece. It is just superheroes gathered around a tree trying to figure out what their gifts are. It is so charmingly delightful. Superheroes without putting on any airs....I really appreciate the concept.

Excellent cover.

And, finally, what you've all been waiting for....

#1

!!

D

R

U

M

R

O

L

L

,

P

L

E

A

S

E

!

Saved by the Bell Holiday Special #1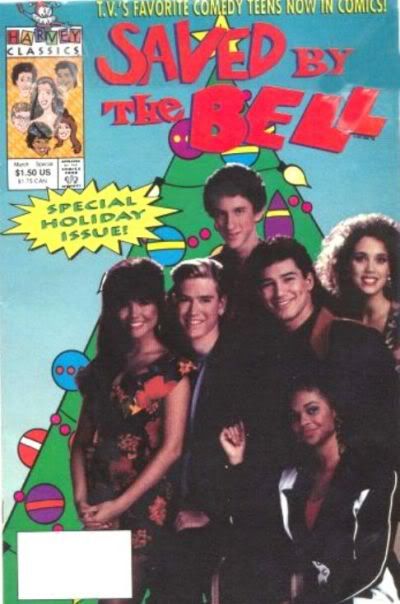 Sadly, the name of the photographer is lost to us, as is the name of the person who drew the tree. Perhaps they were too worried about mobs of fans swarming their homes, going through their garbage, looking for some glimpse into their genius.

The blend of medias is breathtaking. The way the bright green of the tree highlights the expertly cropped publicity photo, it is like this cover was the idea when that picture was taken.

Almost as if the photographer told them, "It's 1992 now, but years from now, this photo will live on as a symbol of holiday spirit!"

Amazing.

And with that, I bid you all a Merry Christmas!!!