Steve Gerber and Mary Skrenes' Omega and John Byrne's Action - Why These Situations Are Accepted
Yesterday, in the comments section, a reader pointed out a problem he had with Jonathan Lethem's upcoming Omega the Unknown project. RAB stated:
I'm REALLY not impressed by the idea of him writing an Omega series against the express wishes of the creators of Omega. Steve Gerber and Mary Skrenes never signed away the rights to that character, but Marvel assumes it can do anything it likes because, essentially, "that's how things always worked back then" and it was just "understood" that characters were owned by the company. Lethem wouldn't tolerate it for a moment if his publisher decided to give away his characters to another author without even asking his permission...but because this is comics, he accepts that without blinking. If he loves Seventies comics so much, why does he not realize that what he treasures is the work of OTHER WRITERS, and want to do right by them?

And yes, you can say Marvel has some legal precedent on its side. But can't we ask what the MORAL question is?
Like what RAB says, it does appear as though the law is on the side of Marvel, but the moral question still remains.

Paul O'Brien had a nice piece on the topic here, but Paul ends the piece with, "That leaves the unfortunate Lethem, who seems to have had the best of intentions, caught in the crossfire between the two. Not a position I'd want to be in." The interesting thing to me is how Lethem would still REMAIN in such a position. And I think the answer lies in the recent reaction to John Byrne's pencils being (at times) drastically changed in the pages of Action Comics.

Here are some of the changes, for example.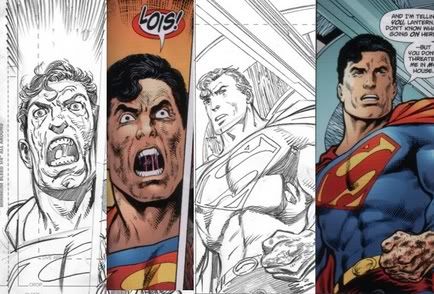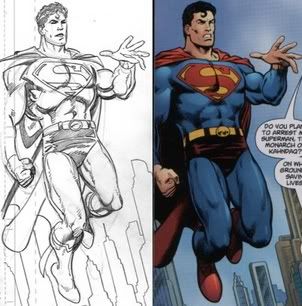 Now here are some reactions from a comic messageboard to the question of whether this is any reason to be upset...
I don't really see why people are so upset about this. I mean Action Comics isn't exactly some personal indie comic, its a corporate product. Since Byrne posts his original pencils for anyone to see, people are free to enjoy his art unaltered, in addition to the touch-ups and alterations that Nelson has done in the published issue. Obviously Byrne is less than enthused that someone is altering his work, but he's being a professional about it, which I must commend him on...[snip off-topic stuff]...Art is altered by inkers and scripts are rewritten by editors all the time at both DC & Marvel. It goes with the territory. These are the company's characters, if they want to tweak the work of the creators working for them in order to get the product they want, they can do so.
and
Key words: "Work for Hire."

Hard to believe in these days of comic artist as rock star, but the fact is, in the work for hire world, the person writing the checks can do whatever the hell they want to your work and they don't have to inform you at all. Those are the rules going in, and Byrne knows it, and he's obviously willing to play the game. If he's cashing the checks and the books are hitting the stands on time, who cares?

Work for hire is what it is. There is no difference between work for hire as a comic artist and work for hire in any other field, except that the work for hire drones in other industries do not have a small but vocal band of loyal fans working themselves up into a dither about changes to their work. Did anybody care when some anonymous artist's illustration got altered by the art director before it was printed in an ad for some antidepressant? Did anybody care when some work for hire photographer had his work in the last Frederick's of Hollywood catalog heavily retouched without his permission?

The Work for Hire motto is "they pay me and I do what they say, and once I deliver it, it's theirs to do with as they wish." If that offends you, I suggest only buying creator-owned comics from now on.
I believe that these two quotes represent the prevailing viewpoint, which, to me, explains the main reason why Jonathan Lethem has no real problem (he may have a qualm, but not enough to NOT do it) re-doing the work of Steve Gerber and Mary Skrenes and why Nelson has no problem re-doing the work of John Byrne, and why folks generally do not have a problem either, and that is the acceptance of "Work for Hire" as the universal truth of creation. If you do something work for hire, you are hereby forfeiting any say in the future of your work, and therefore, people will also not have a problem with any changes to your work.

Well, that and the SECOND aspect, which is that the prevailing thought must be that the change was a GOOD one. An acclaimed novelist doing Omega the Unknown is likely to be good (check out Dalrymple's preview art...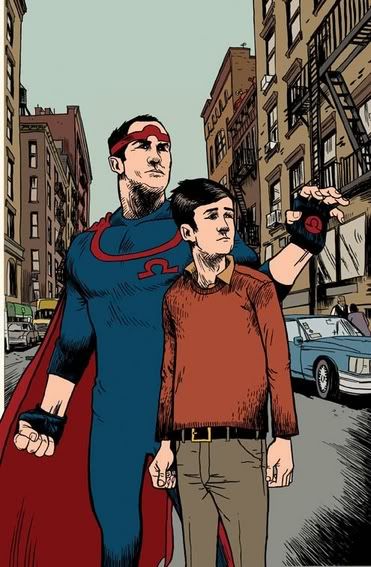 ). People feel that Nelson's changes are improvements on Byrne's work.

Therefore, I think the overall silence on the issues come from two places:

1. It is work for hire, and you can't complain about work for hire
and
2. The resulting product is good, and readers find it hard to complain about products that they enjoy.

Please note that I am not suggesting that the reaction to these events is GOOD, but I am merely addressing why I think this reaction has occurred.

Anyone agree or disagree?