The Southwest Texas "Got A Magical Alien Bug Embedded In My Flesh" Blues: Blue Beetle #1
Blue Beetle #1
Written by Keith Giffen and John Rogers
Art by Cully Hamner
The last Blue Beetle was a fun guy. Essentially a comic nerd made good, Ted Kord was the dork of the DC Universe. His glory days as the buffoon of the Justice League were among my favorite in comics.


We all know what happened later: a fade from prominence, obsolescence, and finally the Old Yeller treatment.

What about the new guy? Same as the old guy, minus the unfortunate head trauma?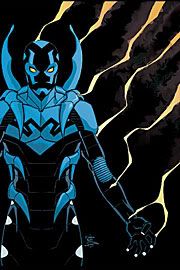 Well, he does look awful different.

The new series, written by Keith Giffen and John Rogers, art by Cully Hamner, is off to a good start. A preview of the first seven pages can be found here, in a Newsarama article.

Our hero is teenager Jaime Reyes of El Paso, Texas. He finds the long-lost scarab of the original Blue Beetle in a construction site while goofing with friends. The issue depicts his return from a jaunt in outer space, whereupon he is attacked by an enraged Green Lantern. Interwoven with the big super-fight is a series of flashbacks showing how Jaime became the Blue Beetle.

Giffen and Rogers work a tremendous amount into a short comic. We begin with a colorful superhero smash-up, then we meet our hero as a civilian and his friends, get a sense of the Reyes family, and run across all sorts of mysterious portents about the scarab. Aside from the Green Lantern, a peeved Guy Gardner, these characters are all new. To mash all of that into a single comic takes a lot of effort.

Rogers's dialogue is witty and charming. He sketched the outlines of the characters and their relationships to one another in very little space, and they came across as believable people. Rogers has a fine blog where he discusses his regular career as a screenwriter. I'd say he employed that background to good effect in Blue Beetle.

The dialogue does betray a noticable sitcom rhythm in a few panels. Clever rejoinders felt a little fast and a little too clever in a few spots. It wasn't bad; it just felt like a sitcom. Also, there was a moment when a character's background was hinted at through dialogue that rang strangely in my ear. Sad to say, it combined the subtlety of a falling anvil with an over-clever method of exposition and pulled me right out of the story for just a second.

Maybe it could have worked as written with a different panel layout. Hm.

The art, by Cully Hamner, is well done. He took a cartoonish approach, which is a plus. Rather than "comic book standard" appearance for everyone, the characters are distinct from one another in more than just hair color and clothing. They're different shapes and sizes. Hamner also captures the flavor of El Paso, lending the book an unusual background.*

Worthy of note is the coloring. The color palette of the comic changes with the setting, like shifting keys in a song. Everday El Paso is almost entirely in shades of brown, creating a calm and muted feeling. The super-hero action scenes between the Beetle and a Green Lantern are in bold bright colors: black, green, blue. The story itself takes pains to contrast the everyday life of Jaime with the super-lunacy of the Blue Beetle. Reinforcing that through coloring was an excellent idea.

Issue number one did not end on a danger-packed cliffhanger. Instead, it left the reader with a handful of mysteries. The Green Lantern claimed the scarab gave off powerfully bad vibes. A mysterious woman made cryptic statements to Jaime and vanished. Weird writing appears in Jaime's field of vision.

Thus, Blue Beetle's appeal for issue #2 is twofold: the charm of regular kid Reyes and the riddle of the scarab. I'll pick it up. I'm not certain that Beetle will be a classic for the ages, but it's a well-made superhero book with promise. I'll take it.

----------------------------
*The Lovely and Delightful Mrs. Jerkwater is from El Paso, and my in-laws still live there. As a result, I've been down there enough times to appreciate Hamner's efforts to recreate its appearance. The Reyes house looks just like my in-laws' house. Then again, about sixty percent of the houses in El Paso look like that.