The Portent #1 - Comic Opera
In a
piece
by Gary Cole, Jr., Peter Bergting, writer/artist of The Portent, described his comic as thus, "The story, and the way it's told, is a bit different from most comics. It's a sweeping story and I have quite few surprises planned. I believe it doesn't look or read quite like any other comic, it's certainly more verbal and brainy, I see it more like an opera played out on the printed page. It has all the action of an action film and all the melodrama and tragedy of a great stageplay as well. Some would describe it as Shakespeare with Kung Fu I guess. I'm very into Tsui Hark and you can certainly pick up on a few things that have inspired me from his films. I would best call it melancholic but there is a lot of humor in there as well." While this description may be a bit high-falutin', it is also fairly accurate. I think that The Portent #1 (you'll love this) is a portent of more good work to come in this series.


First off, any fans of Hellboy should be advised to pick this series up, as it is clear that Bergting and Mike Mignola share a lot of the same visual influences (I cannot speak to whether Bergting was influenced by Mignola, as well). Check out these samples from issue #1.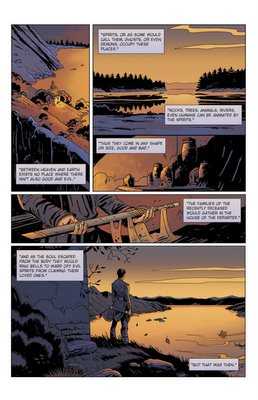 and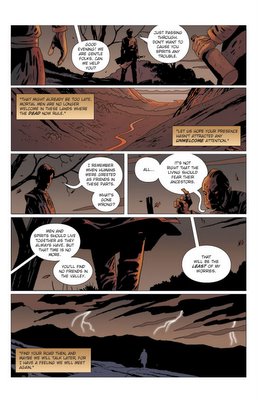 As you can see, Bergting's work flows with a very moody, shadowy style that works for stories steeped in fantasy.

These two pages also include the most striking lines of dialogue from the series. The first page includes the phrase, "Between Heaven and Earth exists no place where there isn't also good and evil." And the second page includes the line of dialogue from a dead spirit, "It's not right that the living should fear their ancestors, men and spirits should live together as they always have. But that time is no more."

That is the world of The Portent, a world where a young man named Milo may or may not be a hero who must save all of mankind against the forces of evil. It does not help that Milo does not seem to believe in his mission, nor that, even if he DID, he does not seem to be all that inclined to very much CARE. However, when it comes down to being killed by the forces of evil or being a hero, the option is fairly clear.

The story is only beginning, and I do not yet have much of a read on where Bergting is going with the plot, and his hero is still basically a blank slate, but the basic concept is interesting, and I especially love the throwback that Bergting does to classic adventure literature where he is very willing to have comic relief mixed in the book.

The art, on the other hand, as you saw above, is excellent.

If the story continues well, and the art continues its excellence, The Portent could be a very fun book to follow.