Nightwing Edit Surprise
Comic customers this week may have been surprised to see Nightwing #115, as it featured the following cover: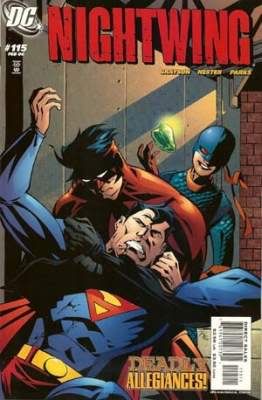 This would be surprising because the book was initially solicited with THIS cover:




In addition, the solicitation for #115 were as follows:
Nightwing's long and winding road has landed him under Deathstroke's thumb in the most vicious collection of villains ever assembled! Now, it's time for Dick Grayson to take matters into his own hands. But if he's trading Deathstroke's loyalty for Lex Luthor's, is his life getting any better?


Well, suffice to say, that solicitation did not match the actual plot of Nightwing #115 at ALL. Lex Luthor was not even IN the comic book. In addition, #115 really did not match the ending of #114 at all, either.

What Nightwing #115 DID do was rather abruptly cut Devin Grayson's storyline short by two issues, resolving everything in #115 rather than her obviously larger story, as detailed by the following solicitations for #116 and #117:

#116 -
The full scope of Deathstroke's fury is revealed! Dick Grayson has been "on the inside" for a long time, but to what end? Who's watching whom? And who will pay the price when lives are on the line? You simply can't miss the explosive secrets revealed in this issue!
#117 -
Deathstroke's endgame is in play, and not everyone will make it out in one piece! On the run from the deadly Society, Nightwing is in for the fight of his life. Guest-starring Oracle and a whole mess of villains as we wrap up one of the biggest Dick Grayson stories ever!
Essentially, these solicitations do not match what actually occured in #115, which was a wrap-up to the crime problem in Bludhaven, and an end to Nightwing's undercover journey with Deathstroke.

So...what the heck happened?