Is The New Mister Miracle Artist Good?
According to
All The Rage
(and confirmed by Williams himself), Mister Miracle replacement artist, Billy Dallas Patton, has been replaced by Freddie Williams II, best known (as was Patton) for his work on Noble Causes (specifically the flashbacks for the current Noble Causes storyline). So, the question becomes, is Williams II any good?



Williams' most noted work is his Noble Causes stuff, which I have enjoyed so far. Here is a sample of his work from an issue of Noble Causes (for every picture, click on the drawing for a larger version):




Here are two pin-ups he has done, starring familiar characters (Note: All pictures, except for the Noble Causes drawing from jayfaerber.com, come from Williams' site here.

First, the Justice League...




Next, Spider-Man...




Here is some sequential art samples of his...

The first is from a project called Wargod, from Speakeasy Comics...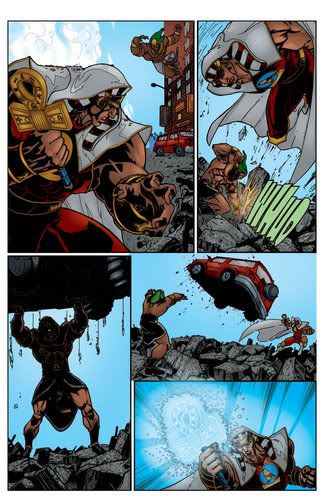 The second is from a project called Chance of a Lifetime, from Cellar Door Publishing...




I like the Noble Causes piece the best, and I hope that is the style that he brings to Mister Miracle.

All in all, though, what I am struck by is just how SIMILAR his work seems to be to Billy Dallas Patton's work!

I guess I figured the idea was to get AWAY from Patton's style.

Well, if you liked his work, he is ALSO doing a fill-in issue of Aquaman in a month or so (#39, I believe).

What do you all think of the change?