Current Comics Report for 6/8
This is a report about what I think about the comics of this week, based upon Diamond's Shipping This Week list, as reprinted below, with my (sometimes quite snarky, so be forewarned) comments.
Certain sections of the Current Report on the 6/8 Comic Book Week contain forward-looking statements that are based on my expectations, estimates, projections and assumptions. Words such as "expect," "anticipate," "plan," "believe," "estimate" and variations of these words and similar expressions are intended to identify forward-looking statements, which include but are not limited to projections of books being good, writing performance, character flaws, artistic coolness and continued title stability.
Forward-looking statements are made pursuant to the safe harbor provisions of the Prognasticators Reform Act of 1995, as amended. These statements are not guarantees of future performance and involve certain risks and uncertainties, which are difficult to predict. Therefore, actual future results and trends may differ materially from what is forecast in forward-looking statements due to a variety of factors, including, without limitation:
A book being better than I thought it would be;

A different creative team on a book;

A different type of story than I thought it was;

Differences in anticipated and actual performance by the writer and/or artist
All forward-looking statements speak only as of the date of this report or, in the case of any document incorporated by reference, the date of that document.All subsequent written and oral forward-looking statements attributable to me are qualified by the cautionary statements in this section..
Shipping This Week: June 8, 2005
DARK HORSE
APR050037 BLADE OF THE IMMORTAL #102 (MR) $2.99
Sorta cut down on what I can talk about when you only come out with ONE item, Dark Horse! What gives?!?!?!


DC COMICS

APR050320 ACTION COMICS #828 $2.50

Sadly, this was Byrne's last shot at the cover, it seems, which is too bad.

In any event, I estimate that this will be another strong issue by the team of Simone, Byrne and Nelson.

MAR050359 BATMAN BEGINS 13 IN CHRISTIAN BALE AS BATMAN DLX FIG $89.99

So, 90 bucks...must be SOME helluva figure, right?

Well...take a look...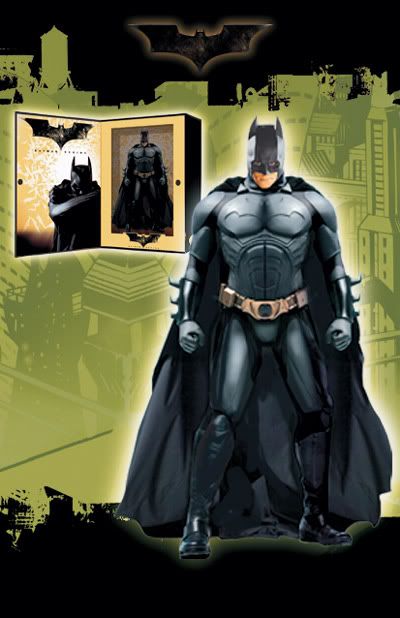 What the heck, DC?!?!?!

90 bucks for THAT!?!?

Listen to the description - "This 13 inch figure includes an authentic movie costume, alternate set of hands, grappling gun, batarangs, a stand to display the figure and a full-color Certificate of Authenticity. Packaged in a deluxe 4-color window box with a 5th panel."

A Certificate of Authenticity?!!?

That is an authentic toy?!?!

Bah, I say!

BAH!
MAR050362 BATMAN BEGINS CILLIAN MURPHY SCARECROW MINI STATUE $29.99

Makes this sound downright reasonable.

DEC040342 BATMAN BLACK WHITE SERIES MINI STATUE BISLEY $45.00

What an odd choice to make a statue based on.

APR050311 BATMAN DARK DETECTIVE #3 (OF 6) $2.99
APR050304 BATMAN LEGENDS OF THE DARK KNIGHT #192 $2.50

Seth Fisher art!! Seth Fisher art! I believe this will be cool looking!

APR050360 BATMAN STRIKES #10 $2.25
APR050330 BREACH #6 $2.50

I am sorry, Mr. Bob Harras, I apologize for mocking Breach. It is not as bad as I sometimes joke it is. Not my cuppa (besides the awesome art), but I can see why some people might dig it.

APR050404 FABLES #38 (MR) $2.75

I believe that this issue will ROCK!

APR050309 GOTHAM CENTRAL #32 $2.50

I believe that this will be a strong issue by Rucka, but it sorta irks me that they plan on giving away that it is about Poison Ivy on the cover, as I do not believe it is the case INSIDE the book that it is obvious.

APR050336 GREEN ARROW #51 $2.50

Wow...a milestone! As far as I know, this will be the first Anarchy story NOT written by Alan Grant.

Trippy!

APR050343 JLA #115 $2.50

I estimate that this will be lame.

APR050342 JUSTICE LEAGUE ELITE #12 (OF 12) $2.50

I was pleased with some of the resolutions in #11 (particularly the Coldcast revelation), and I am very hopeful that this will be a great final resolution.

APR050321 LEX LUTHOR MAN OF STEEL #4 (OF 5) $2.99

In all seriousness, would ANYone have had a problem is Azz had just made this series his Superman run?

ANYone?

APR050370 MAD XL #34 $4.99
APR050397 MAJESTIC #6 $2.99

Abnett and Lanning did such a good job on the first mini-series, but I have no idea where they're going with the ongoing...I just now that I do not enjoy it.

APR050376 MONSTER COLLECTION VOL 2 (MR) $9.99

Could a fan of this title please explain the appeal to me? Thanks.

APR050316 NIGHTWING #109 $2.50

Yeah, let's get Nightwing involved in the crossovers now! Seriously, how ridiculous is it to undercut Grayson like this? Like her or dislike her, you gotta give her a chance to tell her story without having to tie into the crossover du jour.

APR050356 RANN THANAGAR WAR #2 (OF 6) $2.50

PLEASE GIBBONS!

PLEASE make this good!

I was expecting so much from you on this series, please don't let me down!

APR050401 TOM STRONG #33 $2.99
MAR058204 VILLAINS UNITED #1 THIRD PTG $2.50

IMAGE

APR051669 AGE OF BRONZE #20 $3.50

New storyline, people! Good time to try the book out!

APR051664 AGE OF BRONZE VOL 2 SACRIFICE TP $19.95

Volume 1 is unavailable from Diamond!! What gives?!?

APR051719 CITY OF HEROES #2 $2.99

I estimate that this issue will be an improvement over the first.

MAR051673 EARTHBOY JACOBOUS GN $17.95

This could possibly be the trippiest comic ever. In fact, I estimate that it WILL be one of the trippiest comics ever.

A flying whale?

Insect monsters trying to kill a boy because of a virus on his hand?

What is this, the Filth??!?!

APR051659 FLAK RIOT #1 $2.95

Seriously, whose idea was it to call this book Flak Riot? It seems like a fun book, but such a terrible name.

FEB051577 GRAY AREA VOL 1 ALL OF THIS CAN BE YOURS TP $14.95
JAN051608 NEGATIVE BURN WINTER 2005 $9.95

Super sweet.

MAR051683 STARDUST KID #1 (OF 5) $3.50

So...is this just basically Abadazad? Nothing wrong with that...just asking.

APR051662 STRANGE GIRL #1 $2.95
APR051720 TENTH DARKK DAWN ONE SHOT $4.99

If I bet you ten bucks three years ago that the Tenth would still be coming out, would you have taken the bet?

APR051717 TOP COW TRIPLE PLAY $0.99

I think this is a good idea, if only for the Seth Green comic book. People should dig that.

MARVEL

APR051893 DISTRICT X #14 $2.99

I thought last issue was a nice change of pace (as Bishop's partner was just getting tooo depresssing), except it ALSO had to go with a depressing ending. Not a lot of happy in District X.

APR051949 FANTASTIC FOUR VISIONARIES GEORGE PEREZ VOL 1 TP $19.99

Rarely have I seen a less appropriate title for a trade. Don't get me wrong, I'm pleased to see these issues collected, as they were good...but Perez on FF as visionary?!?!

On what planet is this!?!?

APR051870 GRAVITY #1 (OF 5) $2.99

Hopefully this issue will be as much fun as Sean McKeever hyping it is.

APR051878 LAST HERO STANDING #2 (OF 5) $2.99

For those who have been DYING to see Lyja the Skrull in a comic again!

APR051969 MARVEL 1602 TP $19.99

This comic reads a lot better in trade format.

APR051887 MARVEL KNIGHTS SPIDER-MAN #15 $2.99
APR051916 MARVEL NEMESIS IMPERFECTS #2 (OF 6) $2.99

They really do give Pak the weirdest assignments.

APR051883 MARY JANE HOMECOMING #4 (OF 4) $2.99

I predict that this issue will be another fun, genial, character-based story.

APR051907 NEW THUNDERBOLTS #9 $2.99

When will we find out that I am right about Swordsman's ID?!!?

APR051909 NEW WARRIORS #1 (OF 6) $2.99
MAR051902 PULSE #9 $2.99

When will the first Pulse issue come out that is NOT tied to another storyline in another title?

APR051943 PUNISHER #22 (MR) $2.99
APR051885 TOXIN #3 (OF 6) $2.99

Could Milligan POSSIBLY write THREE good issue about the spawn of the spawn of Venom?

MAR051875 ULTIMATE FANTASTIC FOUR #19 $2.25

Mike Carey, right? I predict a good issue.

APR051951 ULTIMATE FANTASTIC FOUR VOL 1 HC $29.99

THIS is what hardcovers are for!

APR051952 ULTIMATE FANTASTIC FOUR VOL 3 N-ZONE TP $12.99
APR051872 ULTIMATE SPIDER-MAN #78 $2.50
APR051932 X-MEN #171 $2.50

Here you go, Milligan, your first arc fell a bit flat, let's see some redemption!

APR051962 X-MEN FANTASTIC FOUR HC $19.99

This is NOT what hardcovers are for!

APR051941 X-MEN THE END HEROES AND MARTYRS #4 (OF 6) $2.99

WIZARD

APR052476 TOYFARE FANTASTIC FOUR MOVIE TOYS CVR #96 $4.99

I estimate that this will be a fun read, like most Toyfares are. A very underrated mag, in my book.

APR052481 ULTIMATE SPIDER-MAN ACE EDITION #1 PI
APR052488 WANTED WIZARD ACE ED SGN #1 (O/A) PI

Wait, people DON'T want a special reprint edition of a book from last year? Seems hard to believe.

COMICS

MAR052960 A G SUPER EROTIC ANTHOLOGY #14 (A) $4.99

See, now THIS is the way to buy comic book porn! Anthologies!!

APR052879 ACTION PHILOSOPHERS ALL SEX SPECIAL $2.95

I thought that this came out already? In any event, as it is Action Philosophers, it will kick butt.

JAN052381 ACTOR DARKNESS PRELUDE FOIL CVR ED $5.00

Support ACTOR! Just maybe pick a better book than this to support it with.

JAN052452 AP HOW TO DRAW CHIBI SUPER DEFORMED TECHNIQUES TP $19.95
DEC042524 ARMY OF DARKNESS SHOP TIL YOU DROP DEAD #3 $2.99

Hehe...I estimate that Ash kicking ass in the future will be funny.

FEB052444 BEST OF THE WEST #51 $6.95
FEB052831 BETE NOIRE #1 (OF 4) (MR) $9.95
MAR052601 BETTY & VERONICA #209 $2.19
MAR052602 BETTY & VERONICA DIGEST #157 $2.39
APR053030 BIRTHDAY RIOTS HC (MR) PI

This is a really good comic. I just don't like the whole "Please Inquire" thing.

APR053058 CAVALCADE OF BOYS VOL 1 TP (MR) $14.00

I estimate this will be just about the best gay romance comic released this week.

FEB052968 CISCO KID GUNFIRE & BRIMSTONE #1 (MR) $2.95
MAR052975 CLIVE BARKERS THIEF OF ALWAYS VOL 3 TP $7.49

Anyone reading this? Sounds like a cool idea, although Aguirre-Sacasa did a similar story in Marvel Knights 4 recently (Someone stealing time).

APR053028 CONFESSIONS OF A CEREAL EATER GN (O/A) PI
APR053029 CONFESSIONS OF A CEREAL EATER VOL 2 GN (O/A) PI

I predict that the art on both of these books will be quite good.

JAN052811 CROUCHING TIGER HIDDEN DRAGON VOL 4 REVISED & EXPANDED ED (M $13.95
FEB052689 DEADBEATS #71 $2.50
APR053024 FANTASTIC ART BEST OF LUIS ROYO HC NEW PTG $49.95
APR052652 FATHOM #1 $2.99

Seriously, is this, like, the 87th Fathom #1?!?!

FEB052443 FEMFORCE TO DIE FOR GN $15.95
MAR053283 FIREFIGHTER DAIGO OF FIRE COMPANY M VOL 11 TP $9.95
MAR052693 FUTURAMA COMICS #20 $2.99

This book will be funny.

APR053033 GIPSY FIRES OF SIBERIA VOL 2 (O/A) (MR) $4.00
APR053032 GIPSY VOL 1 GIPSY STAR (O/A) (MR) $4.00
APR052715 HELLBRANDT GRIMM DIGEST SIZE TP $9.99
APR053012 HOAX #2 (MR) $2.95

I predict that this will be a weeeeird comic.

APR053053 HOLMES PERIPHERY FLIP BOOK $3.50
APR053056 ICE HAVEN GN $18.95
MAR052606 JUGHEADS DOUBLE DIGEST #113 $3.59
MAR053318 KARE FIRST LOVE VOL 4 TP $9.99
FEB053020 KATMANDU ANNUAL #5 (MR) $4.99
APR053046 LITTLE STAR #3 $2.99

I believe that Andi Watson rules.

APR053031 LOST GIRL (O/A) (MR) PI
MAR052796 MEGACITY 909 KANO & ZACK CVR A #7 $2.95
MAR052797 MEGACITY 909 MARK LEE CVR B #7 $2.95

This doesn't seem to be my speed exactly, but I hear a lot of good things about it. Anyone picking it up?

APR053037 MIRACLEMAN #17 RUBY RED ARCHIVE SIGNED ED $250.00
APR053038 MIRACLEMAN #18 SIGNED ED $12.95
APR053039 MIRACLEMAN #23 PLATINUM ARCHIVE SIGNED ED $99.95

Whoever would have thought that 6 issues and the difference between platinum and ruby red would be over 150 dollars? I mean, they didn't use ACTUAL rubies, did they?!?!

APR053040 MIRACLEMAN APOCRYPHA #1-3 SET $29.95
JAN052752 MODERN ARF GN $19.95
MAR053099 NICK LANDIME VS THE WORLD CRIME LEAGUE #1 $2.99

Eric Burnham is funny. I predict that this will be a fun comic book.

FEB052751 NODWICK #28 $2.99
MAR052525 PATTY CAKE & FRIENDS VOL 2 #14 $4.95
MAR052578 PEEBOMANGA PKT MANGA VOL 1 GN $9.99
APR053186 PENCIL FIGHT #2 (MR) $5.00
MAR053119 PHANTOM JACK COLL ED TP $17.99

Congrats to Mr. Breitweiser on his new job at Marvel! He deserves the work.

MAR052608 SABRINA VOL 2 #67 $2.19

Last issue was disappointing. I am expecting more from this issue.

MAR053319 SENSUAL PHRASE VOL 8 TP (MR) $9.99
APR052900 SEX WARRIOR ISANE XXX #5 (A) $3.95

Snap out of it, Sex Warrior! You're not making any sense! Isane?!!? What does that MEAN!?!?

MAR053238 SHONEN JUMP JULY 2005 VOL 3 #7 $4.99

Shonen Jump is a really good deal. You would be well advised to give it a shot. Only five bucks!

MAR052963 SILENT HILL THE GRINNING MAN $7.49

If toys and video games were considered off limits, I think comic production would be decreased by a 1/3.

FEB052820 STRAY BULLETS #38 (MR) $3.50

THIS is where Lapham belongs, not Gotham!

MAR052892 SUPERNATURAL LAW #1 $2.95
MAR052707 TAROT WITCH OF THE BLACK ROSE DLX ED #32 (MR) $19.99

This book and Jim Balent sooo deserve each other.

FEB053003 TEMPORARY CUBES AND LADDERS #1 (O/A) $3.95

This is the kind of comic that we should just be so happy that actually gets made. Damon Hurd is a unique voice, and it is used to such great extent on creator-owned books like this.

APR053054 TEMPORARY THE REAL ME PART 2 #3 $2.95
MAR052976 UNAUTHORIZED PUFFED MOVIE ADAPTATION TP $16.99
MAR052712 VIC & BLOOD TP (STAR18902) (MR) PI
APR052519 YOTSUBA MANGA VOL 1 TP $9.99

Well, those are my estimations!

Feel free to share your own, or just check back to see how wrong I was!