Mess Not With Bronze Age Superman!
Infinite Crisis
gives us back the Old School Superman, if only for a while.
The "Old Superman" of the series seems to be an amalgam of old Supes-es: the Golden Age Two-Fisted New Deal Hero; the Silver Age Lois-Taunter; and a character who has been nearly ignored--the Superman of my own youth, the Bronze Age Supes.
This last version should not be forgotten or brushed aside. Oh no.
Mess not with Bronze Age Superman.


Not only would he administer the pimp slap to those who merited such disdain...





At least once, he took on the devils of hell itself. And not only did he beat them, as he did so he talked a tasty line of smack.




Beating the devil is admittedly a Mighty Feat. But Bronze Age Superman took it to another level, both theologically and whoopassedly...

He punched out angels.

And kept talking smack.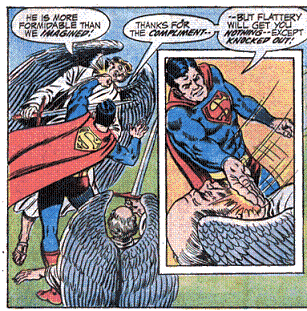 I halfway expect to someday find a comic hiding amidst the longboxes that shows him punching God in the neck.

Mess not with the Bronze Age Superman. He will end you.