This Weeks Comics. By Me.
I don't usually do this, figuring that Greg and other Blog-Folks have this department pretty well sewn up... But what th' hell. There was enough interestingly GOOD and interestingly BAD stuff I got this week that I think it's worth an overview.




First:

BeaucoupKevin (I think) brought to my attention that there was a new book by Norwegian Cartoonist Jason "No-Last-Name" this week. Sadly, because I live way out in the boonies of armpit-ville Michigan, none of my comic shops got it in.

But Lookit it! Isn't it beautiful!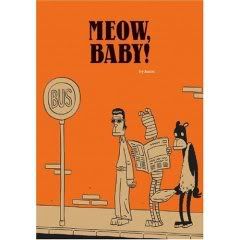 Mmm. Mummy-y, Caveman-y, Elvis-y goodness. I'll drop a review when it finally comes from special order.

So, onward. In alphabetical order:



All Star Superman # 2

Grant Morrison (Writer) Frank Quietly (Drawer 'n Inker) Jamie Grant (Beautiful Digital Inker Who Deserves a Medal.

I'm gonna assume y'all read this one. So SPOILERS, especially about things that pissed me off.

What we got here is a character piece, as Supey and Lois Lane take a leisurely stroll through his Fortress of Solitude 'n leisurely reflect on their relationship. Granted, 'cause this is a Grant Morrison book it's a character piece with a decent helping of cool sci-fi closet ideas. (Miniature suns! Singing Crystals! Future Supermen!) And because it's a Grant Morrison and Frank Quietly book, it's a very well drawn and designed peice of comic art.

The only real problem? The writing parts kinda blew.

The major problem with ASS 2 is that, for all his varied and potent strengths as a writer, Morrison just can't seem to imbue his characters with the sort of emotional depth that they need to have to carry an issue long examination of Lois and Clark's relationship.

Granty M, Like, even when his characters should be freakin' out out of their freakin' minds they're always cool rationally extolling their point of view. Nobody is ever, like, carried away by a windswept torrent of emotion. Morrison's characters are ALWAYS type-A logical.

And, y'know, people who in love don't act like that. A more cynical man than I might use the adjectives 'Bug Tits Crazy.' ASS # 2 is a book about how to people feel about each other that didn't convince me that the two leads felt ANYTHING. I'm not the hugest fan of soap opera hysteronics, but even that seems to reflect real world truth more than Morrison's parade of logic-o-bots.

The comic kept trying and trying to be a sort of nervos love story, and kept Failing and Failing.

And the last page climax? That woulda happened on page 4 of a Mort Weissenger comic. Stupid Decompression! I hates you!

Call this one

Sorta Recommended

but mostly for the brilliant choice of camera angles, page layouts, and coloring. And the mniature suns. The miniature suns were cool, and should have their own comic.

Side Note: At first I thought this issue was going use a bunch of fairy-tale tropes; Lois encounters a "Pandora's Box" and a Magic Mirror, but that seemed to fizzle out by the time the central drama hit, where Lois' freaks out at her Super-Stud's current behavior and new solar granted powers and tries to off him. (Remaining, of course, perfectly, calmly, compelely logical and rational and NOT EVEN REMOTELY like a woman driven to kill the man she loves throughout.)

But THAT would have been cool. And an issue long examination of Lois' thought process as she decides that Supes has gotta bite it for the good of the planet and her emotional travails t' reach that decision would have been cool. Instead, we get a lotta nothing.




X-Statix Presents: Dead Girl

Peter Milligan (W) Nick Dragotta (A) Mike Allred Inks and Cover.

Lemme lay some metaphor on you hep cats.

Imagine you venture towards your local grocery store to purchase a box of raisin bran. When you get home with said box of carb-laden goodness, you find that the box is chock full of Shredded Wheat with three bran flakes and one measly lookin' raisin at the bottom.

That's this comic.

It SAYS Dead Girl on the cover in, like, Big Type and everything, but our titual heroine shows up on page 22, (out of 22!!!!!) and the rest of the book is a bunch of characters the writer doesn't define very well hanging out and being boring.

The emotional weight of the story rests on the audience being familiar with Doctor Strange, (A major writing mistake all by it's lonesome) but Milligan's Doctor Strange doesn't really act like anyone else's Doctor Strange, so we're just left with a bunch of blah.

One of the strengths of Millian 'n Allred's X-Statix, which I love-love-love-love-loved, was that it nested itself in it's own little corner of the Marvel Universe. Milligan and Allred's characters kind of inhabit a reality all of their own; The dialouge isn't even remotely naturalistic/Bendis-y, and Allred's Kirby-by-way-of-Manga characters would certainly look out of place in, say, Wolverine. In their own litte X-Statix-verse not-reallyconnected with the rest of Marvel Universe, this worked just fine. Here, where Doctor Strange is the main character and the only X-statix member to get any face time is the Anarachist...

Well, the whole thing just falls flat. The X-Statix work best when they can satirically reflect the cliches of the rest of the Marvel Line, but not quite participate. The POINT of the X-Statix is that they're a different breed of superheroes, only tangentally related to Lee and Kirby's brood in attitudes and appearance. Making 'em team up with Doctor Strange and Kraven the Hunter weakens th' strength of the parodiac, tangental connection.

But, if you discount the total story failure and the lying-ass title, there are some nice touches:

The art was nice-and Allred-y all the way through even with the man himself reduced to inking duties.

The introduction, two kids finding a rather grotesquely expired supervillain (Who's name was never mentioned, despite his reppearance as a main character) was pretty snappy.

There's one really cool scene where Doctor Strange is peering into some ethereal alternate dimension and his man-servant Wong looks and says"It's beautiful. Master. What is it?" And Doc Strange is all "It's Hell. It's Where the Lower Life-Forms Congregate and those souls are corrupted or spoiled descend. Not quite so beautiful now, is it? (See, now, I just gave you the best part. So you don't have to buy it.)

Doctor Strange going to a shrink was fairly novel, with an interesting twist at the end, even if it didn't tie into the rest of the story at all.

We got to see X-Statix Anarchist again, and Miss America, member of the GREATEST SUPERHERO TEAM EVER,



made an appearance. (And had one line, but I'll take what I can get.)

Still:

Not Recommended.





Mister Miracle # 3

Grant "No longer on my shit-list" Morrison (W) Freddie E. (The "E" is for "I'm not Pasqual F

E

rry" Willians II)

This, I say, THIS is more like it.



Recommended. An' Then Some.



Let's get THAT outta the way right now. A couple of truly awesome fight scenes, one of which is Man vs. Math, some heavy metaphors 'bout free will and individual identity, a Darkside who stays in the shadows, only reaching out to toy with his prey like some kinda sadistic alley cat, surprisingly solid art from Mr. "I'm not Pasqual," AND a hot tub scene with S 'n M overtones that nudges us towards some interestin' parallels between sex and the loss of self...

That said, I'm still processing, and I think I need to go back and re-read my Kirby afore I really figure out what Morrison's doing here. But since the POINT of this whole Seven Soldiers thing is for people with BAs in literature to overanalyze the subtext!

Wayull... I'm just gonna toss some random chunks of brain-detrius at the screen here an' see what sticks. 'k?

The most interesting aspect of this whole series, t'me, is the re-casting of Kirby's New Gods as universal archetypes.

Kirby's New Gods was the King trying to write pure, undiluted mythology. Not "Modern Day Mythology" so much, but myth that works in the same way Greek Myth works. Basically every character, event, and location is SYMBOLIC, designed to teach moral lessons, but myths are also a functional narrative which can be read completely seperate from the symbolic truths.

Joseph Cambell basically asserted that the symbolic truths of myths permeated cross-cultural boundaries. Like, if you compare and contrast Greek Myths with say, Cherokee Indian Myths, you'd find that they're not only teaching some of the same Moral truths, but generally have the same narrative structure.

So I'm wonderin' if Morrison didn't have the good Professor in mind when recasting myths in a different cultural context. (Specifically, and this just tickles me Pink, a kind of updated version of Seventies Blacksloitation. I'm Talkin' Bout Metron! Can You Dig It?!

Without givin' TOO much away for folks who an't read it, the Seven Soldiers books as a whole are 'bout the transformation and evolution of their individual protaginists. Which is actually fairly novel in superhero comics, where the hero tends to stay as a fairly static archetype, at least after their origin.

In Mister Miracle's case this is even MORE extreme. Shilo's story is more than personal transformation; He's got to reorientate his whole reality away from celebrity artifice to allow himself to see THE TRUTH, Matrix or born-again Christian Style. Poor Shilo, far from the competent ubermensch's you get in most of the spanex books, doesn't even know what the hell's going on around him, and this lack of knowledge can, well, get his arse really, truly good 'n kicked. (As we see in the end.) Anyway, it's a brave storytelling choice, drawing more from epic Fantasy (Think Narnia, ferinstance) than the usual way that superhero books work.

Seargent Rock: The Prophecy Joe Kubert (W an' A)

So, er, who was it that's in the house?

JOE KUBERT in da MOTHER FAWKIN' HOUSE!

WHOOOT! WHOOOOT! WHOOOOT! WHOOOT! WHOOOT!

Now, when it comes right down to it, I'd probably call papa Kubert the single best comics artist t' ever lay pencil to paper. More than any other comix drawer he bridges the gap between artist and cartoonist. His characters SEEM exaggerated, with facial expressions that are more alive than life, but, unlike Eisner or Crumb or Jaime Hernandez his characters always remain true to life in terms of anatomy and perspective and stuff. And, even more importantly than that, he manages to give his characters a kind of quiet dignity and depth.




Well, except for when he's drawing fuck-off big monsters, which honestly come off pretty doofy. (And, admitedly, this was fairly early in his career.)



Of course, Kubert's not best known for his monsters. (Fer obvious reasons.) He's known for his blood 'n thunder war comics. In fact, there's probably no long running series from the big two that's as closely associated with a single artist as Seargent Rock an' Easy Company are with Joe K.

SO, after twenty-or-so odd years not associated with the main title, Kubert's return to the Rock is somethin' of a major-big deal, 'specially as a writer; This is, far as I know, the first full issue of Seargent Rock that Kubert's writ by himself. Ever!

But is it good? Oh sweet lordy, yes!

Let's take a look at JUST the first page.



See the range of emotion on our puppy protaginist's little muzzle? That ladies and gen'men, is Cartooning!

Aside from the art, the story is more'n competently executed. Seargent Rock and the ethnically bemixtured band of misfits who tag after him are dropped into Vilnus, Lithuania, a "No Man's Land Between the Germans and Russians" in order to meet up with their Russian contact, recover a mysterious "valuable" object from said contact, and hork their keisters back to the Allied side of the line, prize in tow.

Along the way Easy Company (Named 'cause nothing's ever Easy for Easy) run into a squadron of tanks, capture some prisoners of war who are summarily executed by Rock's Russian contact, (A husky bearded fellow name 'o "Bear," and pick up the pooch seen in the first few panels.

In the last decade Kubert's turned from documenting made-up-in-someone's head soldiers to well, not quite TRUE stories, but a minimally embellished account of actual war survivor's and alternative historical fiction..

And his work is even BETTER for it. There's a sense of scope, of focusing on the small moments (Like the pooch panels above) amidst the chaos. The book feels true.
Kubert effectively maintains a balance between the tanks-blowing-up action scenes and the Easy-crouched-in-a-foxhole quieter moments that serve to both make us care about the characters and ratchet up the tension for when the enemy starts shelling.

Sadly, it's not done-in-one like the Seargent Rock stories of old, but the story doesn't feel decompressed, or that you're only getting one eight of a story for your money.

And the cliffhanger at the end is one Heck of a Humdinger.



Highly Recomended!