Sharknife Volume 1 - Never Too Young to Learn Old Tricks
Today's "You Decide" is Corey Lewis's Sharknife: Volume 1. I think that the criticism that I have read for Sharknife has, so far, read to me like a bit of a
Cousin Larry Trick
. A good deal of reviewers seem to say that the reason they did not like Sharknife was because they think that they are "too old for the book." I do not buy that as a reason, but it is SUCH a good Cousin Larry trick that, after
I
first read Sharknife, that was MY response as WELL! However, looking at it again, I do not think that that is a good enough explanation.


The main reason why I do not think that "we are too old to get it" is a good enough reason is because of Scott Pilgrim. Sharknife and Scott Pilgrim have a good deal in common. Both books are coming to us from the perspective of the first comics to be written by the "Mortal Kombat generation" (for lack of a better term). These are the people raised on video games that are practically comic books themSELVES, and this style of video game is a direct influence upon the way that they write their comics today (and, by proxy, the Japanese influence in those video games is also transfered to their comics, as well).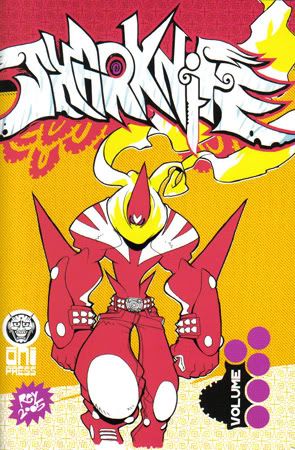 It's an exciting new style, and I think that Corey Lewis will probably be a name to watch for years and years to come.




However, Scott Pilgrim was a book that most of the same reviewers who felt that they were "too old for Sharknife" DID like! So if they (and I) liked Scott Pilgrim, there is no reason that the style of the story should be a deal-breaker.

I think the reason is that, for right now, that Corey Lewis just has not reached the same level of comic book goodness that Bryan Lee O'Malley achieved with his Scott Pilgrim,

Sharknife opens up a lot like Scott Pilgrim, and I was really into it. The plot of the comic is that Sharknife is a mystical protector of The Guandong Factory, a five-story Chinese Restauarant that the mob, led by its half-Cuban/half-Japanese leader, Ombra Ravenga, is constantly trying to eliminate. Busboy Caesar Halleluja transforms into Sharknife to defend the restauarant, and when he is not Sharknife, he is close to the restauarant owner's daughter, Chieko Momuza.

Great premise, right?

And those names! The comic totally exudes cool at all levels.

The problem is, it does not always exude STORY. When it does (the first three chapters), it is like Scott Pilgrim's brother by a different mother. And Lewis' decision in Chapter Three to have it just be a dialogue between Chieko and Caesar in a "cutie-ball" style of art (a drastic change from the art style the rest of the book) was extremely impressive.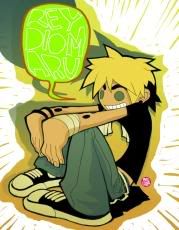 That, though, only takes you about one/third into the comic. The next TWO/THIRDs of the comic is basically just Sharknife fighting an array of bad guys (with plenty of video game references, like keeping track of Sharknife's "health"). And that's really it.

Page after page of just Sharknife fighting bad guys.

The intent, it appears, is to make the experience like the reader is playing an intense game of a Street Figher-esque video game. However, in my estimation, it instead reads like WATCHING someone ELSE play a video game. And yeah, there is SOME interest in that. But not for two/thirds of the comic.

It eventually just gets boring.

Here are two pages from the fighting parts of the book:




Really nice art, right?

But would you like to read page after page after page of the pages I just showed you?

And I do not think that that is a result of me being "too old" to understand the comic. It is not exactly complex. I might not be big on video games, but I get what Lewis is doing here. I just did not think it was that good.

If you DO think that you'd be into reading pages after pages of the two samples that I just gave you, then, by all means, Sharknife is JUST the book for you!

With all the complaining out of the way, let me reiterate that I thought that the first third of the book was quite good. Very similar to Scott Pilgrim, which was excellent (as an aside, it is really freakin' annoying that I cannot find the review I did for Scott Pilgrim on this site! It doesn't show up in the search function at the top of the page OR a google search for "Scott Pilgrim Comics Should Be Good"!!!).

So I hope Volume 2 will be more like that. Lewis has talent and cool to spare, so I just hope that he hones it in the future. He could be a very special comic creator.