Guest Entry - "Comics Sometimes Suck"
Hello,
Wesley Dodds
here, guest-blogging -- on how sometimes, comics just suck. You know the comics I mean: The Crossing, Spider-Man's clone saga, Hush -- sucky, sucky comics. Comics like today's focus, Fantastic Four 260.


John Byrne's Fantastic Four had many high points. Fantastic Four 266, where Reed Richards sought the help of Doctor Octopus to deliver Sue's baby. Fantastic Four 280-83, where Sue was twisted by Psycho Man into Malice -- and became The Invisible Woman. Fantastic Four 242-244, where the Fantastic Four and the Avengers teamed up to trounce Galactus -- only then to save his life. Even Fantastic Four 258, a clever and subtle one-issue focus on Doctor Doom -- but also the first part of the story that concluded in the sucky, sucky Fantastic Four 260.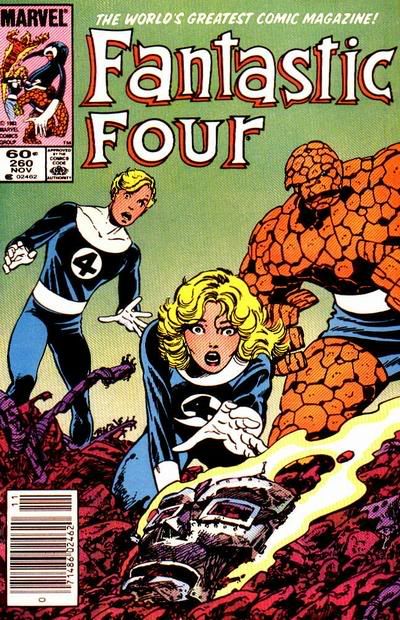 What's wrong with it? Well, let's start with Namor. The issue begins with three pages of Namor investigating a mysterious threat and ends with Namor asking Sue for help. OK. The Fantastic Four are fighting Doctor Doom and Terrax, herald of Galactus. Pretty exciting stuff. Why are we supposed to care what Namor's up to? It doesn't even set up the next issue -- it sets up a crossover with Alpha Flight. That's four pages gone. The Fantastic Four are fighting their ultimate enemy and Byrne decides to spend four pages on Namor. Fantastic.

Then there's the Identity Crisis-like failure of the narrative. The problem with Identity Crisis was that the mind-wiping was completely unrelated to Sue Dibny's murder. The mind-wiping should have somehow caused Sue's death -- for example, Doctor Light murdering Sue in revenge, or some villains brainwashing Jean to get back at the heroes for what they did to Doctor Light.

There's a similar problem here. In 258, Doom kidnapped and restored Terrax's power to set him against the Fantastic Four. In 260, Doom confronts Terrax -- and Terrax turns the power cosmic on Doom to… fuse his armour. No, he doesn't use the power cosmic to incinerate Doom, as he should have -- he fuses his armour. Great. Doom ends up dying later in the story (sort of) because he couldn't get out the way of Terrax -- but it's just not the same. If Doom's to die as collateral damage, well -- Byrne should have just had Doom walk over a manhole and been done with it.

A premise creates an expectation -- in this case, that Doom would face a serious consequence for unleashing Terrax's evil. Having Terrax only fuse Doom's armour isn't enough.

And the Silver Surfer! Three members of the Fantastic Four are losing against Terrax -- so, the Silver Surfer flies in and defeats Terrax. Sorry, what's the title of this comic again? Oh, right -- the Fantastic Four. To the protagonists go the climax. Since this arc was set up to have a special focus on Doom, it would even have been alright for Doom to get the climax. But, no, it goes to the Silver Surfer.

Ann Nocenti used the same device in Daredevil 282 -- with the same character, actually. But it worked there because Daredevil was hopelessly outclassed fighting Mephisto. Also, Nocenti made the structural choice of not showing us the result of the fight between Mephisto and the Silver Surfer -- instead, the action followed Daredevil. The Fantastic Four had at the point of this story defeated Galactus several times. Even without Reed, Terrax is a threat they should have been able to handle. Having the Silver Surfer defeat Terrax instead is like reading all 7 Harry Potter books and then seeing Neville defeat Lord Voldemort while Harry's in bed with a bad cold.

Worst of all, this issue -- the climax of a major story arc -- is just a glorified set-up for another story. Reed's missing, where could he be? This should be the satisfying conclusion to a battle between the Fantastic Four and Doctor Doom. That's what we were promised. Instead, because of this new plot point Reed's absent and the chief conflict between Doom and the Fantastic Four is gone. Worse, the story focuses on Reed's absence so much that it actually prevents the current arc from having a satisfying climax. So, what should have been the thrilling conclusion to a three part story is just… the prelude for another, less important story. Pathetic. It would have been more acceptable to lead in to the new story after the battle with Doom.

Doom doesn't actually die in this story (duh) -- he transfers his mind out before his body is destroyed. A mistake. Stan and Jack always left how Doom would survive unanswered. Part of the fun of a Doom appearance was seeing how he escaped certain death in his previous encounter with the Fantastic Four. See how sucky this issue is? It's even so sucky that it actually weakens the subsequent appearance of Doctor Doom, where the reader will already know how Doom survived.

The image of the fragment of Doom's mask doesn't work either. Doom had already transferred his mind out -- it'd have been better to see the broken body of the monarch of Latveria. Doom's survival has already been established -- come on, John, let us see the body. Instead, we get to see Sue credulously pronounce Doom gone forever because she has a fragment of his mask. That wouldn't be enough to call any villain in the Marvel Universe dead, but Doctor Doom? He could be atomised and he'd still find some way to come back.

John Byrne, good writer and artist -- creator of Fantastic Four 260, sucky, sucky comic.