Unnecessary Guide to Seven Soldiers
I am continuing the Seven Soldiers discussion by giving y'all this little (unnecessary) guide to the characters of Seven Soldiers.
Grant Morrison is certainly not going to be hemmed in by past events during his stories, and you will not have to have read anything prior to the actual comic itself to understand/enjoy the books.
However, I figured it might be a little fun to throw together a little guide to the characters featured in Seven Soldiers.
The Shining Knight
was created by Craig Flessel in 1941.
Sir Justin was a Knight of the Round Table who fell, along with his flying horse, Victory, into a pile of ice...and awoke in World War II!
He was a backup character for over 100 issues! He was drawn for a time by Frank Frazetta! Then he was basically non-existent from the 50s until now!

Here is what he looks like (from an appearance in All-Star Squadron in the early 80s).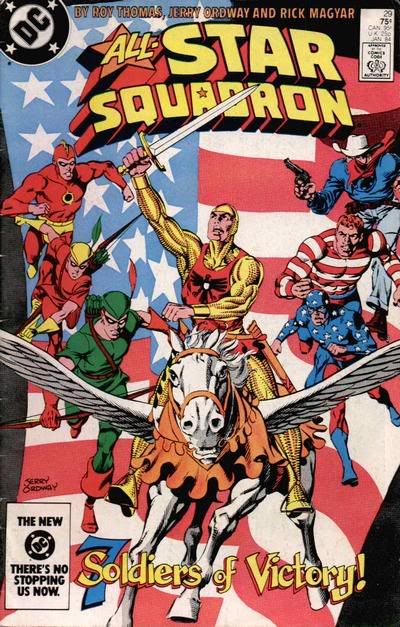 Klarion the Witch Boy made his first appearance in Jack Kirby's The Demon in the early 70s. He was one wonky dude. Here is his first appearance....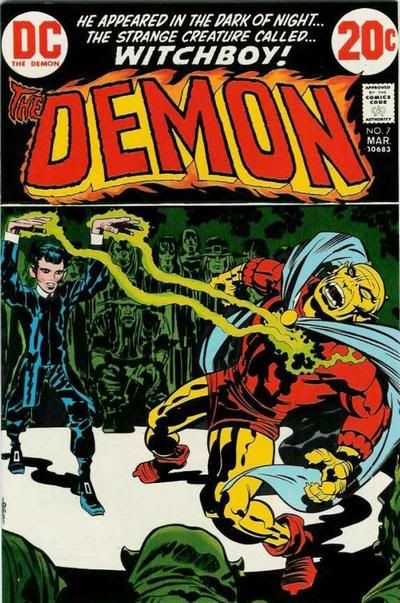 Klarion pretty much went unnoticed in the DC Universe (save for a cameo appearance in a Wonder Woman arc) until Demon got a series again, seventeen years later!! Alan Grant loved Klarion, and used him a lot. After that series ended in the mid-90s, Klarion was used by Peter David as the impetus for a big crossover called "Sins of Youth," where Klarion makes all the teen superheroes adults and all the adult superheroes teens.

The Bulleteer is basically a reworked Bulletgirl. She is going to be based on out of continuity stuff, but if you want some background on Bulletgirl ANYways, here goes.

She appeared in one of the first dozen or so appearances of Bulletman in Fawcett's Master Comics, somewhere about 1941. She was Susan Kent, girlfriend to the star, Bulletman, who figured out his identity, and when given a helmet that let her fly like him, decided to also fight crime like him - as Bulletgirl!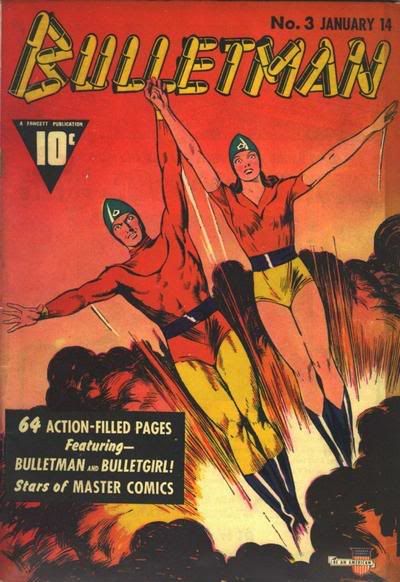 Their last appearance was somewhere in the late 40s, not to appear again until DC bought up all the old character and brought them into the DC Universe in the big Justice League America crossover of #135 or so (the same time Shining Knight was brought into the DC fold).

The Spawn of Frankenstein is probably THE most obscure characters featured in the Seven Soldier. He made his first appearance in an early 70s issue of Phantom Stranger. He is basically just the classic Frankenstein's Monster, just still traveling the world, getting into misadventures years and years later.

Here is the only cover appearance I could scrounge up...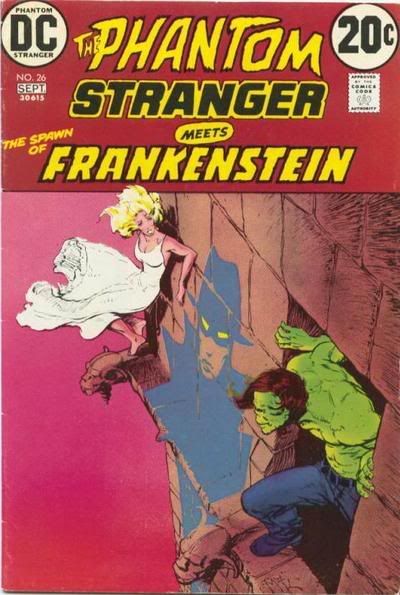 On the other hand, The Guardian is one of the more popular heroes on this list. He starred, alongside the Newsboy Legion (a gang of kids, heavily inspired by the popular Dead End Kids of film fame (if you've never seen Angels With Dirty Faces...you really should) for the first 60 or so issues of Star Spangled Comics in the 1940s, written by Joe Simon and drawn by Jack Kirby.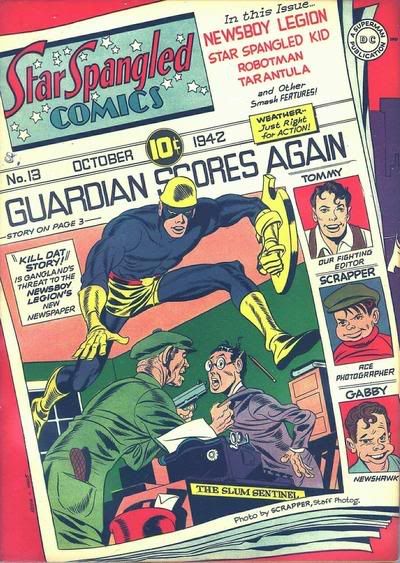 When he took over Jimmy Olson almost thirty years later, Kirby brought the Newsboy Legion and the Guardian back. They were significant contributors to the Superman series of titles in the late 80s and early 90s, even becoming popular enough to get their own mini-series...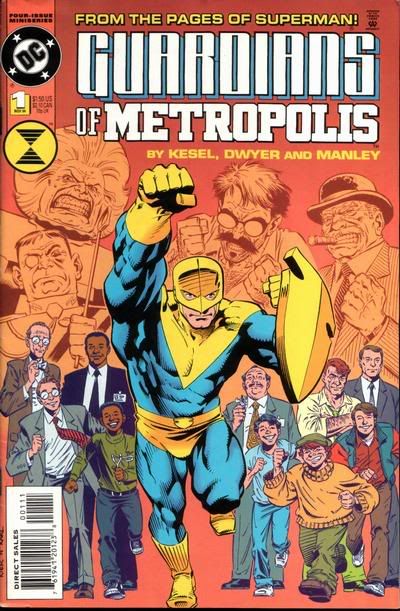 Guardian was last used during Joe Kelly's run on Superboy. He was killed off, then brought back...I really do not know WHAT his status is.

Mister Miracle (Shiloh Norman), like Frankenstein and Klarion, made his first appearance in the early 70s. Shiloh was taken under the wing of the escape artist Scott Free (Mister Miracle) in the following issue...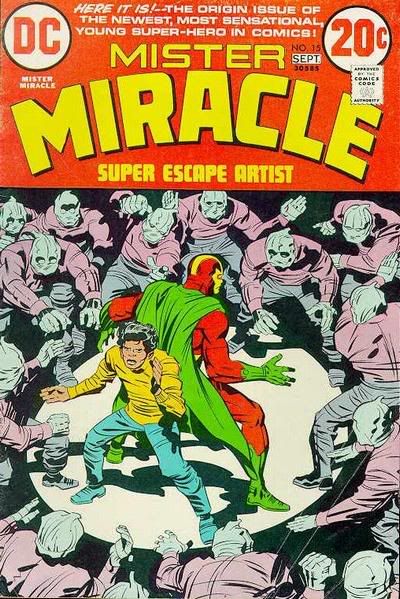 Scott began training Shiloh to succeed him, and eventually Shiloh did so...just nineteen years later...hehe.

After that series ended, Shiloh eventually got out of the costume biz, and became the designed for the top supervillain prison on the DC Earth. He eventually became warden of the prison. That was the last time he was heard from (2001-ish) until now.

Zatanna is probably THE most popular hero here.

She is the daughter of the notable DC magician Zatara. Gardner Fox and Murphy Anderson introduced her in an early 60s issue of Hawkman. She made a few appearances in this really neat "crossover" where she would visit different heroes' mags in a quest to find her missing father.

She made a few appearances here and there, which made it all the more surprising when she was picked by the fans in a poll to determine who was going to be the newest member of the Justice League! She beat out Supergirl!!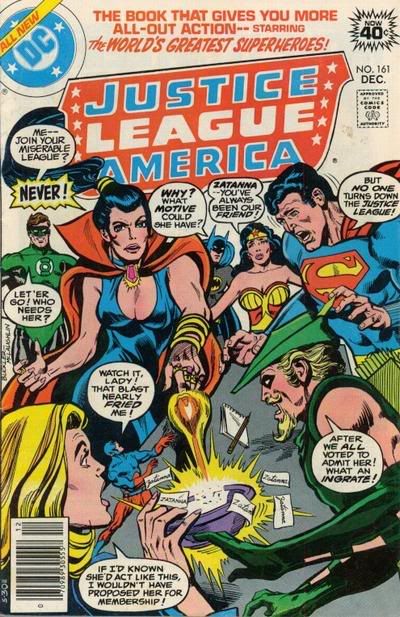 Who knew that they could get an even more revealing outfit for a character who used to run around in fishnet stocking and a tux top!

She was a member of the Justice League until the Blue Beetle/Booster Gold era, and she has not been a member since.

Here's a shot of her other two costumes...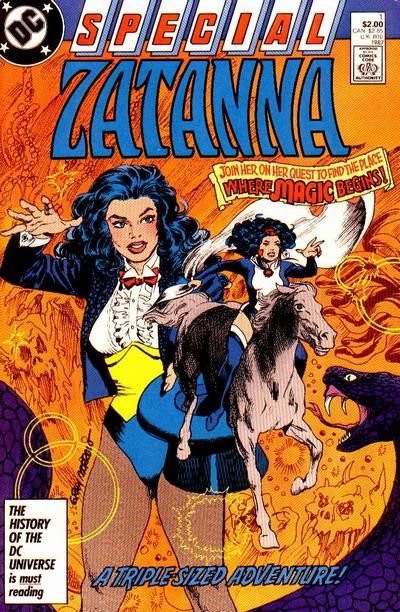 She's just been hanging around, doing magic here and there since the 80s. Just recently, she was revealed to have given Doctor Light a mental lobotomy...but I sincerely doubt that Grant Morrison is going to refer to that.

Anyhow, there you go!

An unnecessary guide to Seven Soldiers (the first bookend is out TOMORROW!)!

While it was unnecessary, I still hope it was fun!!