The Comics Should Be Good Best Comics Of 2005 - Best Artist
For the second of our 5-part series about the best comics of 2005, the staff decided to focus on artists. Shocking, I know - we did writers yesterday, so now we do artists. We're so unpredictable! I agree with Mr. Brian (I kind of have to, it's in my contract) - there is a lot of great talent out there, and just because all the sheep here picked Grant Morrison as best writer doesn't mean they don't think all the other ones suck. Keep bringing up your choices, though - we could always forget a great one! And I would be remiss if I didn't mention that you can cast your own vote over at the
Comic Bloggers' Poll 2005,
the brainchild of
Chris Tamarri,
whose name Cronin still can't spell!


Greg Hatcher:
Here's my criteria for picking a "best artist." Whoever it is should have range, variety, constantly be striving to improve, and show me something I haven't seen before. Which, again, makes this a tough call for me because the books I was looking at the most, art-wise, were older things, back issues and reprint collections and the like. I'd really like to say John Buscema, since I probably was blown away by more of his work in 2005 than anyone else's. Especially his Tarzan books for Marvel.

Of the folks doing current work, though, I am going to say Tom Beland. His True Story Swear To God is becoming, more and more, a treat for the eyes. He understands comics and cartooning and he knows when to push the slapstick-exaggeration on a character and when to dial it down. And he has an absolutely perfect grasp, I think, of how to pace a story and lay out a page. Best of all, he continues to get BETTER. He never just hacks it out to make a deadline. This is one of the advantages of being an indie self-published sort. Plus the book is a terrific read story-wise, too.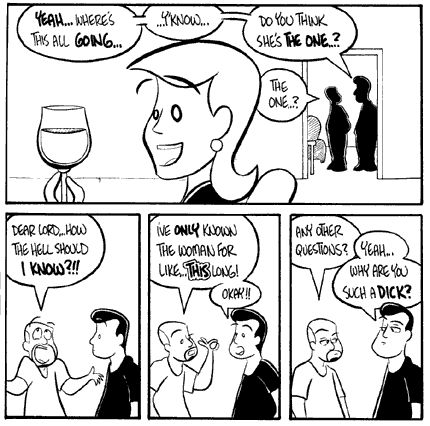 Brad Curran:
I think I'll go with [Frank Quitely] for Best Artist, for his elegant and creative storytelling in We3 and All Star Superman, even if that only comes out to 3 comics this year. I can't think of anyone else whose work I read this year that impressed me more. Well, from this year. Jaime Hernandez and Steve Ditko impressed me a lot, to name two artists, but I didn't read anything they published this year (although that's a moot point with Ditko). That, and I'm already kissing up to Morrison, so I might as well give one of his frequent collaborators some love too.


Art from We3 #3. Holy shit, that's awesome. Awe. Some.

Bill Reed:
I'm going with J.H. Williams III. With a regal name like that, he better be damned good, and he is. I think the last issue of Promethea came out this year — I could be wrong — and it was a sight to behold in its poster form. Also, we got Seven Soldiers #0 and the first four issues of Desolation Jones, which were exquisitely beautiful comic periodicals.


Art from Seven Soldiers of Victory #0

Mark Ludy:
HUGE GLOBBERING CHUNKS OF LOVE for Joe Kubert, who's my favorite artist ever and STILL kickin' righteous ass at the age of seventy-nine, turning in the immensely enjoyable and all-round solid Jew Gangster ...

But I'm calling the entire team who worked on Promethea #32. (J.H. Williams III - artist, Alan Moore - writer, Todd Klein - letterer/co-designer) for reimagining the traditional 32-page comic as some kind of
bizarre art object.

Now, this wasn't a completely successful experiment, to my mind ...

But I'm awed by the gi-normous brass balls it would take to (A) think this up; (B) get DC to publish it; and (C) at least make it absolutely gorgeous t' look at. This issue, being the final of the series, also serves as the last word on both Alan Moore's mystical ramblings on tarot cards and all whatnot ...

AND the most ambitious of his experiments with the comics form, transcending the "Hey, what can I do with a series of panels that's never been done" inventiveness that's why I bought 31 previous issues, even when the mystical lecture lost me ...

To completely reinvent the comic form.

I'm always happy when the lines between comics and the visual arts start to get fuzzy, and I'd love to see more conceptual interplay between comics and the "fine" arts, the same way that comics an' film seem to have hooked up.

This wasn't just the best drawing of the year, though I might well argue that J.H. Williams has a lock on THAT too, but this takes comic art a step forward, and totally reconsiders what a comic can be. Groovy stuff, and easy on the eyes even for those of us who didn't jive on the drawn out mystical lecture stuff so much.

[For more on Promethea #32, Mark points us to Jog.]

Brian Cronin:
Remember what I said about Seven Soldiers #0 and All-Star Superman #1? Well, the artists on those two books are also the two artists that I would point to as the best ARTISTS of 2005, but because ties are like kissing your sister (which is weird), I will choose Frank Quitely over J.H. Williams III, even though it is probably a bit unfair, as Quitely only drew the one issue of All-Star Superman, while Williams did Seven Soldiers #0 AND Desolation Jones, but consarnit, I just think Quitely is better (and I think Quitely did some awesome covers this year, too, that should count for something).

Greg Burgas:
And so it falls to me, once again, to be the voice of reason. I almost picked Williams, but decided that as nice as his work was, it didn't blow me away. Okay, it did, especially in Seven Soldiers #0, but others blew me away more. I considered Tony Harris on Ex Machina - a beautiful book with strong storytelling and unique characters. I considered Bryan Hitch on Ultimates - even though I don't buy it, I can look at it in wonder, can't I? I thought about Luke Ross on Samurai: Heaven And Earth, but decided it was a little too photo-referenced (or at least it looked that way to me). So many choices! Finally, I came up with someone whose art looked like nothing else this year: Tommy Lee Edwards on The Question. Holy bleepin' bleep, that was gorgeous. And unlike anything he'd ever done before:


I like how he drew Superman the way Vic sees him - as pure energy (kind of like that Information Society song). It's a cool way to look at Supes.


Choke on this, J.H. Williams III!

I also decided to throw another superb-looking book in the mix, because I like to waffle: Sal Abbinanti's Atomika, with its astonishing and bizarre double-paged spreads strewn throughout each issue. Soak in the gorgeousness!


Art from Atomika #5

I rule again. Sorry, blog pals, it's just common sense! (Of course, it helps that I have the last word, don't you think?)

Comments? Questions? Vitriol-filled rants about how we all don't know nuthin'? They're all welcome here!