This Artist Is Good - Frank Espinosa
Someone used their "You Decide" pick on Rocketo, from Speakeasy Comics, and I will get around to doing a bit on that (at least the issue that I was able to get, #2, as I believe #1 is sold out). However, any bit on Rocketo would focus on the story as WELL as the art, so for now, I would like to just address how good of an artist Rocketo creator Frank Espinosa is.


Espinosa has worked in animation for most of his career, either for Disney or for Warned Bros. His most significant achievement, to this point, was probably designing the Looney Tunes stamps that the Post Office had a few years back.




Now he is bringing his skills to comic books, and his series, Rocketo, has stunning artwork.

Here is the cover to issue #0 (by the way, Espinosa has a website you can check out for more artwork...click here):




Look at that! It is almost like it is animation while being in comic form!!!

We are all familiar with the concept of "cartoony" artwork, which is artwork that looks like a cartoon. Espinosa goes even FURTHER than that, and makes the artwork almost look like it is moving!!




How he does it is his ability to NOT draw a lot of the characters. I believe there is some scientific reason that explains why the absence of a line causes our eyes to fill it in, and that filling in in our eyes must give it the appearance of almost movement.

At the very least, like the pice below...




...it gives the art a sense of depth that is uncommon...uncommon and quite excellent.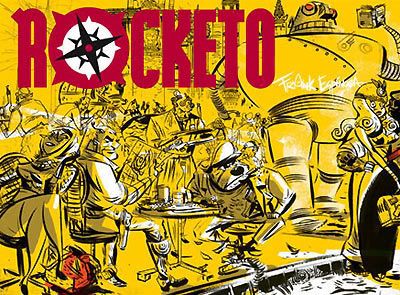 The depth is something that is quite interesting to me.

Finally, after all those pin-ups, I will share with you an example of his storyelling. You would be well-advised to think that he would not be able to keep it up in a sequential format, but then you'd be surprised to see that he DOES!

Click on the drawing for a larger version, where you can actually read it...hehe.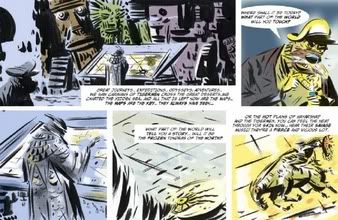 Espinosa also has the staple on the top of the comic, so Rocketo is read in landscape format, which only shows the dynamic nature of his art even more!!

A great artist, and I am very glad that the field of animation lost him (for now, at least), as the field of comics is greatly improved by his addition.