The Character Reclamation Bin, or "Hey, I could make it work!"
What character feels wasted to you?
My pet "wasted" character is Pietro Maximoff, known as Quicksilver.


Quicksilver has been revealed as a major part of the "House of M" mega-crossover event, tied in with the warping of reality and all sorts of insane jibba-jabba. He'll probably be either a new villain, or at the very least, end up all confused and turned into a black hole of plotting.

Dang it. I think he could be a mainstay of Marvel instead of a plot-tangle character with bad hair!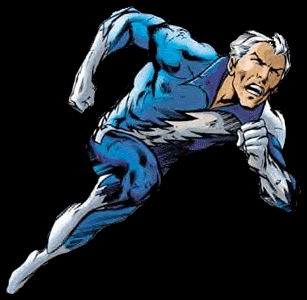 Check out his backstory:

Born to a master villain. Raised with his twin sister by gypsies. (Yes, early Marvel loved using gypsies.) Developed the mutant power of super-speed. Recruited by his father into a mutant terrorist organization, though neither knew of their familial relationship. Rebelled against the villain and joined the pre-eminent heroes of the age, the Avengers. Married a princess of a secret kingdom of superhumans. Had a daughter who proved to be totally human. Split from his wife. Worked as a government agent.

Now factor in his personality: he's a prickly, arrogant bastard, overprotective of his (much more powerful) sister, prone to fits of temper. He's also one of the very few characters who bridges the gulf between X-books and the rest of the Marvel Universe.

Think of what you could do with this guy. His backstory boils down to "poor country boy develops powers, is recruited by his father for evil, rebels, and tries to do the right thing." That he's a less-than-admirable person adds to the stew. Yet he is not insensitive to injustice.

Why Pietro? Quicksilver won me over in an issue of X-Factor when he surveyed the damage from a mutant terrorist group's assault. During the hospital visit, he learned that the anti-mutant Sentinel robot program had been re-established. The rest of the X-Factor team was horrified. His reaction? It was the right decision; humans need to protect themselves from mutant zealots. *

Let's hear an X-Man state that patently obvious truth. Ever.**

He has a couple of juicy conflicts built right into him:

--Father versus son.
--Nature (son of a world-conquering madman) versus nurture (adopted son of a nice everyman sort of fellow).
--Outsider who married into royalty, then spurned by it.
--A villain who became a hero.
--An arrogant jackass who understands the price of arrogance better than most.

He had his own series briefly. It was awful. The writers felt the need to bring in the High Evolutionary and his Knights of Wungadore. (Use of the High Evolutionary is a guarantee of a crap story.) The series was both silly and overly serious from the get-go.

No, no, no, no.

Quicksilver is a perfect straight man. He is the Frasier Crane of superheroes: intelligent, pompous, a little ridiculous sometimes. Give the man an opportunity for some humor, dammit.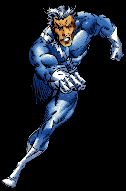 He's also very disconnected from normal peoples' lives. Fer cryin' out loud, his ex-wife lives on the moon and his father's come back from the dead at least six times. How about making him the Superhero of Tampa or some such weirdness. Have the Prince of Mutants and a member of the Royal House of Attilan live in the land of strip malls and defend regular people from superhuman threats?

I dunno.

Enough about my pet idea. Here's the question for the blog-reading public:

What character do you feel could be great if given a day in the sun?


-------------
*Peter David's run on X-Factor showed Quicksilver to great effect. A fine run it was.



**Okay, okay, given the trillions of X-books, I'm sure somebody else said it at least once. Still, a remarkable moment of clarity from the son of Magneto.