An Unnecessary Guide to Albion
Today, DC (in conjunction with IPC Media) is releasing the first issue of Albion, with plots by Alan Moore, scripts by Leah Moore and John Reppion, art by Shane Oakley and George Freeman and covers by Dave Gibbons.
Albion is about catching up with classic British superheroes of the past, and while I am sure that they will write it so that you do not have to be familiar with the histories of the characters (heck, for all I know, knowing all this might HURT your enjoyment of the comic), but I figured I would give you all a guide to the characters featured in the story anyways.


First off, this guide would be in extremely weak shape if it were not for International Superheroes, whose fine site was an EXCEPTIONALLY important resource for this guide.

The feature of of the cover of Albion #1,

Robot Archie

first appeared in Lion #1, in 1952.

Archie was a powerful robot created by Professor C.R.Ritchie.

Archie went on adventures with the professor's nephew, Ted Ritchie and Ted's best friend, Ken Dale.

At first, they travelled the world seeking adventures (at first, Archie could not speak - this was fixed as the series went on), but in 1968, they began a series of adventures through TIME!

Robot Archie ceased publication in 1974, and besides some odd appearances in Grant Morrison or Alan Moore comics, he has not appeared in English comics since (this is the same for most of these characters. Moore killed off a few characters in his Captain Britain run, and Morrison did a lot of parodies in his Zenith work).

Here is Robot Archie...




Robot Archie was drawn mainly by Ted Kearnon.



The Spider

was a former criminal, who was just so good at being a criminal that he decided that FIGHTING crime was a bigger challenge.

He had a suit that would enhance the user's strength and agility, and he had a gun that would shoot webs (similar to Spider-Man's web-shooters).

Spider first appeared in Lion in 1965, and was featured regularly last in 1976.

However, while also appearing in the same parodies as Robot Archie, Spider also was revived by Paul Grist in Jack Staff, in a very nice treatment by Grist (then again, this is Grist we are talking about here, of course it was a nice treatment).

Here is The Spider...




The Spider was written by (and MAY have been created by) Superman co-creator Jerry Seigel.



Janus Stark

made his first appearances in the page of Smash! in 1969.

He was an orphan in Victorian England, where he was imprisoned in a cellar by a bad guy.

His bones are like rubber, so he can contort himself to squeeze through the tiniest of spaces.

Once he freed himself from his cellar prison, he met a man named Blind Largo, who taught him the tricks of being an escape artist.

Now grown, Stark becomes an "escapologist." He became famous in English society for his abilities, as well as his mystery solving (often, because of his lockpicking skills and his super powers, he is suspected of the very crimes he is investigating!!!).

Here is Janus Stark...




He was created by Jack Legrand. His stories were most handled by the creative team of Tom Tully (writer) and Solano Lopez (artist).



Grimly Fiendish

made his debut in Wham! in 1963.

He was the main for Eagle-Eye, Junior Spy, who was a child super spy.

He used monsters to try to take over the world, and he was always stopped by Eagle-Eye.

Fiendish also usd crazy Batman TV series-esque devices to kill Eagle-Eye.

The band, the Damned, wrote a song titled Grimly Fiendish, too.

Here are the lyrics to the song.

Apparently, there is also a band called Grimly Fiendish too, from Hertfordshire England (although one would think that they are more influenced by the Damned song than the comic book...but I do not know).

Here is Grimly Fiendish...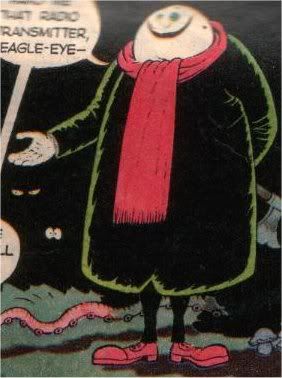 Fiendish was created by Leo Baxendale.

The last two characters both made their first appearances in Valiant #1 in 1962.



Captain Hurricane

owned a tramp steamer, until the Nazis sank it.

You can mess with a man...but never mess with his BOAT!

So Hurricane enlisted in the Royal Marine Commandoes, and took the fight directly to the Nazis and the Japanese armies.

The angrier he got, the stronger he got - and the strongest he got was when he was in one of his "ragin' furies."

Hurricane was also featured in Paul Grist's Jack Staff.

Here is Captain Hurricane, in color...




and one of the good Captain in action!




Scott Goodall and Jon Rose both wrote on the character.



The Steel Claw

is Louis Crandell, who had a prosthetic hand from a lab accident.

A SECOND lab accident (see, Barry Allen's lab isn't the only accident prone area in comics!!) made it so that, when struck with electricity, Louis would become invisible - except for the hand!

The Steel Claw was first a criminal, as Louis went a bit nuts due to the accident.

Later, he worked as a secret agent (with devices being implanted in the hand), and even later, he was a superhero!!

Here is The Steel Claw...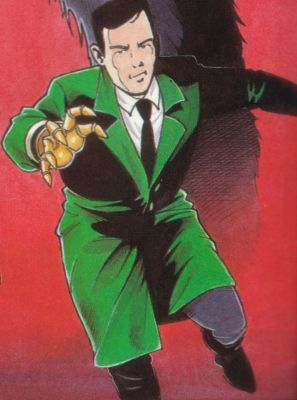 The Steel Claw was written by Tom Tully and mainly drawn by Jesus Blasco.

Well, that is all of the characters that Leah Moore has confirmed will be appearing in the series.

When I hear of any more, maybe I will come back and update it.

Cheers!