An Unnecessary Guide to the Secret Six
In the current mini-series, Villains United, Gail Simone has created a group called The Secret Six, lead by a mysterious leader named Mockingbird.
This is not the first time a group has used such names, and while knowing about them is totally unnecessary to your enjoyment of Villains United, I figured it would still be nice to give y'all some background on the first two Secret Sixes.
The first Secret Six began in the pages of Secret Six #1 in 1968.
Written by E. Nelson Bridwell and drawn by Frank Springer, the basic concept of the group was that that five trained specialists are blackmailed by a sixth person (who communicates through pre-recorded messages) into going on missions. The only secret is, which of the six are the five blackmailed people and which is the blackmailER?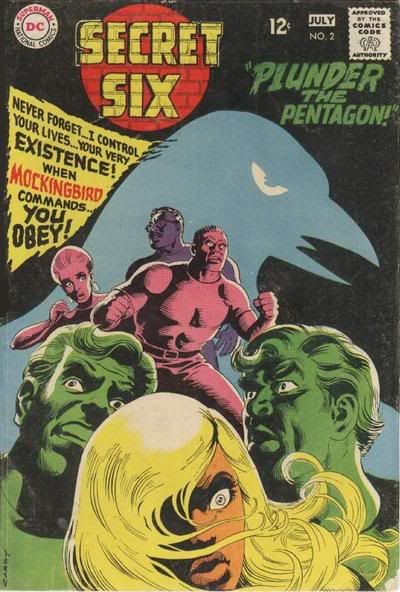 Here they all are, on this cool cover of Secret Six #3 (the first issue to feature Jack Starling art, which continues the rest of the series, which only lasted a few issues more).
The members of the group are as follows:
Top Row, Left to Right:
King Savage, who was a pilot during the Korean War, and was shot down and ended up revealing secrets to the enemy. Mockingbird freed him and allowed him to warn the UN. He works for Mockingbird or else Mockingbird reveals that he is not a war hero, but a coward. He was the stunt guy in the group.
Carlo di Rienzi, who was a magician in Italy, who fell afoul of the mob. They killed his wife and severely injured di Rienzi and his son. Mockingbird gave him the treatment he needs to be able to walk, but if he does not work for Mockingbird, the treatment vanishes. He was an escape artist (makes you wonder why they had a stunt man AND an escape artist, seems kinda redundant to me).
Lili de Neuve was a famous actress framed for murder. Mockingbird came up with an alibi to save her, but if she did not work for him, the alibi would vanish. She was a masterful disguise artist.
Bottom Row, Left to Right
August Durant was a famous scientist who was infected by enemies of America with a virus. Mockingbird devised an antidote, but he only gave Durant enough of the antidote so that Durant would need to keep coming back to him for more. And if he did not work for Mockingbird? You guessed it. Durant was the brains of the group.
Crimson Dawn was a socialite who was hoodwinked by a "suitor." She was so ashamed that she needed Mockingbird to create a new identity for her, as a famous model (Mockingbird did this with the help of Lili de Neuve). If she did not work for him, he would reveal her identity. She was the seductress of the group.
Tiger Force was a boxer who refused to take a fall. He was beaten by the mob, but saved by Mockingbird. He then created a new identity, which Mockingbird will reveal if Force does not work for Mockingbird. He was the brawns of the group.
So it went for the rest of the run.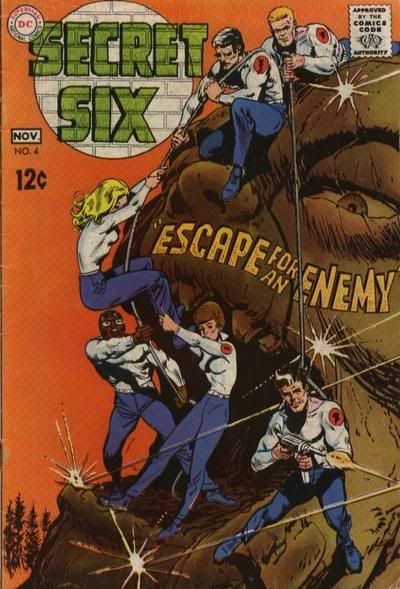 The Six then retired, still not knowing who Mockingbird was (Dick Giordano has a funny story about how, as the new editor on the title, he accidentally let two thought balloons get into the comic that eliminated TWO of the six as possibilities!), until about twenty years later, when a NEW Secret Six was formed in the pages of Action Comics Weekly.
This time, the book was written by Marty Pasko and drawn by Dan Spiegle (things came full circle in the later issues of the run, as Frank Springer took over as artist).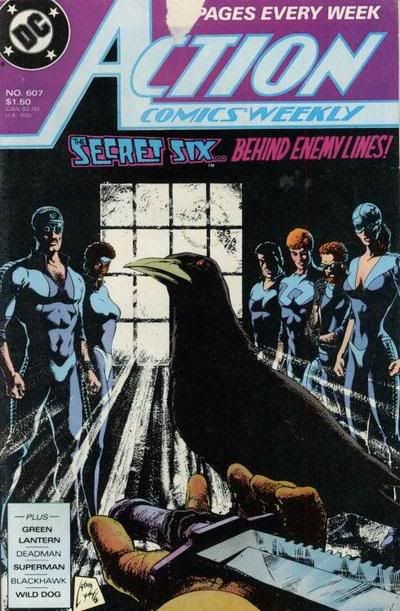 The new Secret Six were also led by a mysterious person called Mockingbird, but this time it was the original Mockingbird, and not one of the team itself.
The team were:
Vic Sommers, a Marine who lost his sight and was given goggles to let him see.
Tony Mantegna, a gossip columnist who lost his hearing and was given a headset to let him hear.
Maria Verdugo, a mathmetician with epilepsy who was given a tiara to control her disease.
Luke McKendrick, a track star who lost his legs and was given new robotic legs.
Ladonna Jameal, an actress who lost her voice and was given a machine that allowed her to speak.
Mitch Hoberman, a sculpter and special effects artist who lost the ability to use his hands and was given him gloves that allowed him to do so again.
The team went on missions for Mockingbird and silently tried to find out who Mockingbird was (they could not be vocal about it, as any attempt to publically search for Mockingbird's identity would cause the gadgets to no longer work).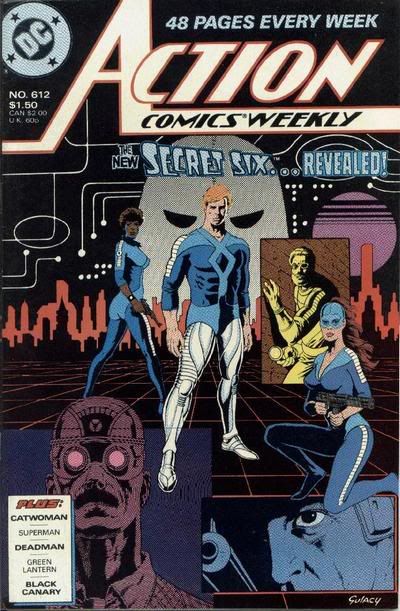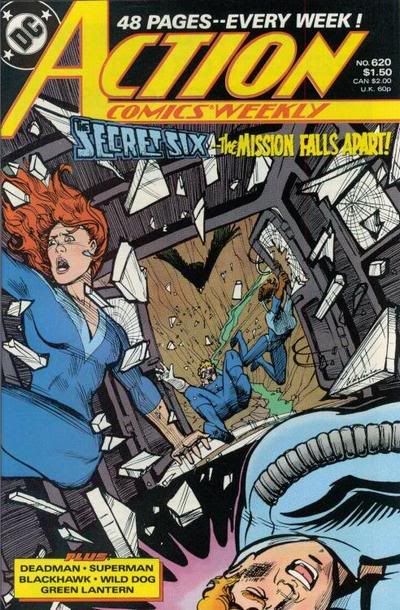 Finally, all was revealed...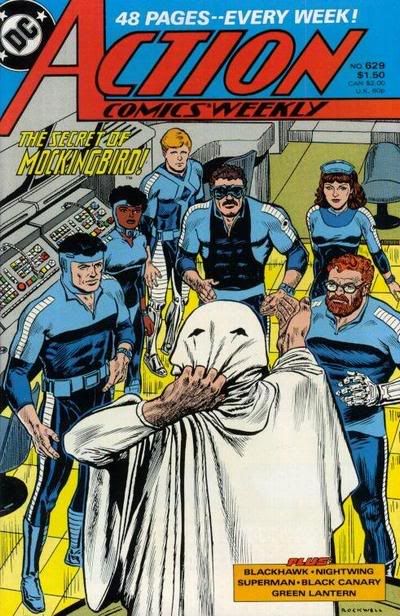 The original Mockingbird was August Durant, who was poisoned by a group called The Agency, and blackmailed into forming the Secret Six. Years later, he revealed his secret to Carlo, and the two planned to form a new Secret Six to take down the Agency. However, the Agency struck first, killing all of the Secret Six but Carlo. He then became the NEW Mockingbird, and was led the new Secret Six. He, too, was killed by an Agency agent, but the Agency was taken down.
The team then disbanded (although we were shown at the end a NEW Mockingbird pop up).
1989 was the last we saw of the Secret Six until this year, when the latest Secret Six and Mockingbird popped up in Villains United. They do not appear to be connected to the originals by anything but the same names, but who knows, eh?