This Comic Was Good - JLA Classified #16
What do you get when you mix a solid superhero story with artwork from not one, but TWO comic art legends? You get a darn fine comic book. In particular, you get JLA Classified #16, a strong opening to the six-part "The Hypothetical Woman," by Gail Simone, with art by giants Jose Luis Garcia-Lopez and Klaus Janson.


First of all, take a look at these sample pages (click on the pictures to enlarge them)!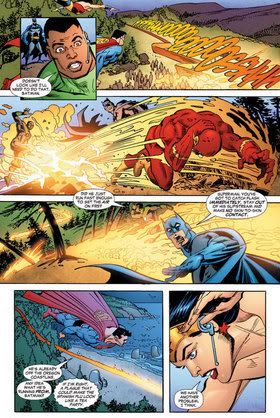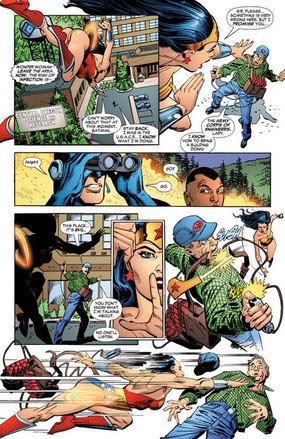 Isn't that amazing? Garcia-Lopez has not lost the touch at all, and Janson does his usual superb job on inks (although I would say that he also impressively seems to restrain his inks a TAD bit, perhaps in deference to the great Garcia-Lopez). So just based on the art, this comic would be interesting enough to read, just to see him draw all the Leaguers. Luckily, Simone gives us an interesting story, as well.

The comic opens with the Leaguers showing up to arrest a tyrant, General Tuzik, (the General gets to spout off some interesting lines about how the League operates like an army), only to be thwarted by international relations (what's great about this is the two-page spread on pages 2 and 3, where Garcia-Lopez depicts Tuzik calmly watching the League cut through his defenses - notice how he is clasping the envelope with the treaty allowing his escape...what a storyteller!!!).

You ever watch ER?

If so, there's a joke about how, often, when a topic is repeated on the show (and with a show as long-running as ER, topics are BOUND to be repeated), the positions taken by the doctors almost seem to be randomly drawn out of a hat. You know, like, "This time, Anthony Edwards is for Position X and George Clooney is for Position Y." Then, 3 years later, "Laura Innes is for Position X and Anthony Edwards is for Position Y." Well, there's a bit of the "pulling a name out of the hat" routine in this issue, as Simone needs a Leaguer to express outrage at the injustice of Tuzik escaping on what amounts to be a technicality, so Flash gets the short straw. Don't get me wrong, of the Leaguers available, he's probably the only one who COULD pull off the reaction, but it certainly is not born out some inherent aspect of Wally West's personality, but rather, simply out of the utilitarian purposes of needing a Leaguer to express Position X. As mentioned before, it is a common practice in fiction (particularly serialized fiction), but it still makes me smile a bit when I see it.

In any event, it is not like Wally's position is even all that shocking, more like a basic "letting tyrants get off on technicalities is bad." In fact, an interesting aspect of this comic is how little actual politics is involved in the story. This was a plot that could very easily become politicized, but Simone manages to deftly avoid any such happenstance, and it is quite impressive, really.

Upon his escape, Tuzik holds a meeting with all the OTHER tyrants out there who have not been overthrown yet, and suggests that, rather than each one of the other tyrants dealing with the Justice League on their own with whatever weapons they possess, the other tyrants give HIM all their weapons and research, and he will form ONE "Doomsday device," and attack the League with it, especially since, unlike the others, Tuzik has noting to lose - he does not mind being known as the "villain" of the piece.

The conclusion of the comic begins with the first manisfestation of Tuzik's mystery "weapon," the Hypothetical Woman that bears the title of this story arc. Whether Tuzik created her or found her, this "Hypothetical Woman" (and yes, that is a great name) can create seemingly impossible things, like (in this issue) a town that is plagued by a virus that is made up of microscopic Starros (leading to a line of dialogue, when Flash is infected, of "My god - he's full of Starro!!," which a pal of mine informs me is a reference to an obscure 80s Sci-Fi sequel to 2001: A Space Odyssey called 2010, which has the line, "My God! It's full of stars!," which is cool by me, as I am always cool with obscure references that do not interfere with the plot).

The issue ends with the League struggling with the Starro virus (which has infected the Flash, whose metabolism is forcing it to affect him quickly), as Tuzik admires his prize, and we, the reader, wait for what plot will come next.

Nice story idea.

Even nicer art.

Worth picking up.